Do You Believe this BIAS Rappler is Saying today 12/22/2016 that Duterte;s TRUST RATING goes down?
Accordingly, 86% trust and approval ratings of President Rodrigo Duterte, based on the results of the latest survey of Pulse Asia Research, Incorporated released that day.
De Lima, Duterte's fiercest critic, said the details of the survey show that there is a decline in his public trust numbers which were at 91% when he entered office in July.
Citing election results, De Lima said Duterte's numbers slid among Class D and E. From 92% in July among Class D and E, his ratings slipped to 85% and 88%, respectively.
Philippine Senator Peter Cayetano who's Mother is an american descent Slam International media for writing False reports of Summary Killings in the Philippines.
Philippine Senator who's Mother is an American descent Slam US, EU, UN and Local Media for airing "brutal & false Report saying that Philippine President Rodrigo Duterte is a Mass Murderer while not investigating the real scenerio where 91% of Filipinos Trusted and Loves President Duterte because they now feel safe walking in the streets even dawn. It was also pointed out that in just 100 days since President Duterte sits into the Presidency, 60% of crime rate went down and many big time syndicates like Druglords and other high profile criminals already flees the country in fear of duterte.
The Media today in the international setting and the local here in he Philppines has been branded by cayetano as "Irresponsible Journalist" which hits the egos of the NUJP where Cayetano was slam over his critic against media men
ABS-CBN Allege False & Bias Report Against Duterte Speech almost Destroys US and the Philippines Mutual Relations, Netizen calls for ABS CBN Closure due to Allege Threat to Phippine National Security
Manila, Philippines: President Rodrigo R. Duterte says that He didn't "curse" Obama saying Media twisted his words which has cause great damage to US-Philippines being one of the closest Ally espcially over a treaty signed between the two countries for Mutual defense against the abuse of China infiltrating the "South China Sea".
Netizen Reacted that ABS-CBN may cause US not to defend the Philippines against China's Advancement and pointed out that ABS-CBN must allegedly be removed before it will cause further damage to the nation.
This statement was related to Senator Peter Cayetano's case filed against ABS-CBN about "Bias & False Reporting at the Taguig Regional Trial Court lately and the Court has finish issuing RTO to the said Giant Network but another allege false report was again committed making it appear that President Duterte called Obama: "Son of a whore." which is Untrue and Twisted accordingly.
It thus resulted into making Obama and Clinton furious especially when Obama cancel His Bilateral meeting with Duterte in Laos. Clinton added what Obama did is right while calling President Duterte to show respect to US President Obama so ABS-CBN has just done an allege very devastating remarks which connotes quoting that the winner is the "YELLOW"
Cayetano open letter to Obama: Duterte: We are not cutting our alliances but will be independent
Senator Peter Cayetano expressed friendship between the Two Nations, pointing out that Obama must trust our President because the Philippines crisis especially on Drugs and criminality has gone down by 49% and 95% of Filipinos Loves the President campaign against "lawlessness and especially what the Opposition is allegedly doing using all sources including the allege Media practice especially the allege ABS-CBN Networking to discredit the Philippine President.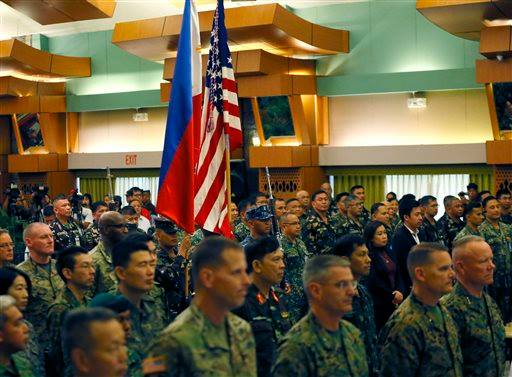 Despite his harsh criticisms against the US, President Rodrigo Duterte is not about to cut ties with Washington as he stressed that the Philippines should not be lectured upon by any country or foreign head of state.
"We are not going to cut our umbilical cord with the countries we are allied with," Duterte said during the 48th anniversary of the Air Force's 250th Presidential Airlift Wing in Villamor Airbase in Pasay City on Tuesday.
"We are not cutting our alliances. (We are not cutting) military (alliances) as well. But, certainly, we will follow an independent posture and independent foreign policy," he added.
Duterte issued the statement a day after he called for the withdrawal of US troops in Mindanao to avoid escalating security risks in the area. According to him, members of the terrorist group Abu Sayyaf hate the US so much that they are ready to abduct and kill any American they see.
Duterte, who has scored the US for allegedly meddling with his bloody war against illegal drugs, said he would not allow other countries to dictate on the Philippines under his watch.
"With regard to drugs, I've been in the receiving end (of criticisms). You know that. It could be funny to look at… You know, we could never be just a small country (that can be) shouted at or lectured upon by any foreign country or by any president," the president said.
"As I said, in my quest for what is right for my country, I'm putting on the table at stake my honor, my life and the presidency," he added.
The US has repeatedly spoken against the spate of killings and the alleged human rights violations in the Philippines, something that Duterte has viewed as an interference into the country's internal affairs.
The acid-tongued Duterte believes that the US cannot preach about human rights because it is also guilty of atrocities like the massacre of about 1,000 Moros in Bud Dajo in Jolo in 1906. He also pointed out in previous speeches that the US has a mess to clean up in its own backyard such as the killing of black Americans by American policemen.
"(If we) have to address human rights problems, then we have to discuss the entire gamut and dimension," Duterte said.
Abella said the Bud Dajo massacre is a "lingering skeleton" that "removes moral ascendancy of those criticizing the Philippines for killings."
He (Duterte) is uncovering something that has not been addressed," he added.
Duterte cited the killing of male Filipinos aged ten and above in Balangiga, Samar in 1901 and the stealing of the town's church bells that are still under US control until now.
"They got the bell. Until now, they hijacked it, stole it never returned it to us," Duterte said.
'Not yet a policy'
People now feel safer under Duterte, says Cayetano
MANILA – Senator Alan Peter Cayetano on Monday again came to the defense of President Rodrigo Duterte and his war on drugs.
Duterte and the police force have been drawing criticisms over what human rights advocates say is a blatant disregard for due process and human rights in the conduct of anti-illegal drug operations.
But Cayetano said the media and human rights advocates are ignoring the positive effects of the president's campaign.
''Drug lords and their supporters are on the run. People are beginning to feel safe. There is a renewed trust on our law enforcers and government under President Duterte,'' Cayetano said in a Senate hearing.
Cayetano said the Duterte administration is being persecuted for its campaign even though there are now fewer daily murder and homicide cases compared to the time of former President Benigno Aquino III.
NUJP slams Cayetano for media criticism over 'kill lists
The National Union of Journalists of the Philippines (NUJP) on Tuesday slammed Senator Alan Peter Cayetano for criticizing media outlets over their "kill lists," saying the lawmaker "protested too much."
"Cayetano protested too much when he insinuates that media have been blowing up the rash of killings that have accompanied the Duterte administration's war on drugs or worse, are embarked on a campaign to tar the present dispensation," NUJP Chairman Ryan Rosauro said in a statement.
In a speech during a Senate inquiry on drug-related killings yesterday, Cayetano hit media organizations, citing ABS-CBN and the Philippine Daily Inquirer, for coming up with "kill lists."
Cayetano claimed that media highlighted the number of drug-related killings and tagged these as "extrajudicial killings" but failed to observe the positive effects of the administration's anti-drug campaign.
Rosauro said Cayetano's allegations against the media "have been dispelled by no less than PNP Director General Ronald dela Rosa who presented statistics" during Senate hearing on Monday.
Dela Rosa said that the number of killings since July 1, when the Duterte administration took office, had reached 1,779: 712 in police operations, and 1,067 outside of police operations, including possible vigilante killings.
READ: Cops linked to drugs, slays
Rosauro said Cayetano made irresponsble claims that media is among those being bought with drug money to discredit the administration.
"Such allegations, without any proof, not only serve to unjustly cast a pall of suspicion over the Philippine media and, in particular, the journalists who toil on the front lines but, much worse, put lives in danger," Rosauro said.
Rosauro clarified that the NUJP shared Cayetano's desire to rid the country of crime and drugs but condemned groundless allegations against media.
"But we do mind it when his zeal drives him to spout careless and baseless accusations that endanger not only us but others as well," he said. Jaehwa Bernardo, INQUIRER.net trainee/RAM/rga