Philippine President Receives Support from Trump and Putin when Duterte Calls Obama "Son of a whore".Obama cancels bilateral meeting with Duterte in Laos. Clinton to Duterte: "Show Respect
Manila Philippines: President Rodrigo Roa Duterte Allegedly receives Support from "Trump and Putin" over an allege issue when Philippine President Duterte" calls US President Barack Obama as "Son of a whore" when obama tried to question him earlier about "Human Rights issue related to many killings of Drug Personalities in the Philippines.
The Philippine President got irked why is Obama questioning something he does not understand as Duterte always aired in news that there is no "Extra-Judicial killings" in the Philippines because everything was done in a Police legitimate operation and not summary killings as many allegedly spreading by western News Reporting Particularly Media "Bias" in the US and the Philippines.
Because of this issue, US president Barack Obama cancelled his meeting with Philippine President Rodrigo Duterte in Laos. White House spokeman says that it is not the right time for Obama to meet Duterte because of the situation that may spark quarrel.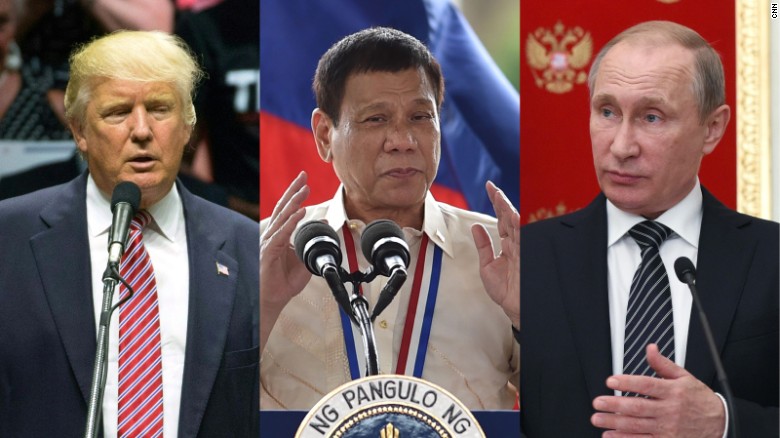 Donald Trump of the Philippines?
Duterte has been dubbed by some commentators as the Donald Trump of the Philippines, but even the US billionaire's often fiery rhetoric pales in comparison to the statements that regularly escape the lips of the former mayor of the city of Davao, who was elected in a landslide in May.
The White House clearly wanted to send a signal in its rebuke of Duterte that loose talk and bluster does not cut it on the international stage. Whether officials also had in mind someone closer to home who has made inflammatory statements on foreign policy -- the Republican presidential nominee -- was not clear.
"I think it was our judgment that given the focus and attention on President Duterte's comments leading into the meetings here we felt that didn't create a constructive environment for a bilateral meeting," Ben Rhodes, a deputy national security advisor told reporters in Laos.
Apparently prompted by the US move, Duterte quickly backtracked on Tuesday, saying he did not mean to insult Obama but was addressing a reporter.
But this was not the first time he's directed offensive language at American officials. In August, he called US ambassador to Manila Philip Goldberg a "gay son of a b****" and said Secretary of State John Kerry was "crazy."
Duterte to Obama