Philippine Joint Special Forces clash with Muslim rebels; 26 killed, 77 hurt
Jolo Sulu, Philippines: Joint Forces from the Philippine Troops killed double a dozen Muslim Rebels popularly known as the Abu-sayyaf Group or ABG for brevity. This was an all out war declared against the Moro rebels by Newly Elected President Rodrigo R. Duterte against this group. Sources revealed that this group is very known as Moro Bandits who live to kill, robbed just for the sake of gold and silver and are responsible for the beheading of two Canadians and an 18 year old filipino who is among the hostages very recently.
A very recent reports was another clash between the Moro rebels and the Philippine Rangers which resulted to 15 dead among the Armed forces of the Philippine Units and countless among the bandits but it was later discovered that this so called bandits are so brave and bold because they were "High on Drugs" during the shooting incidents with the Philippine rangers.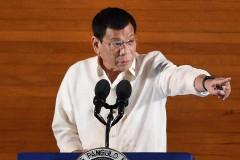 Duterte to Abu Sayyaf bandits: Don't mutilate bodies of fallen soldiers - See more at: http://www.gmanetwork.com/news/story/579653/news/nation/duterte-to-abu-sayyaf-bandits-don-t-mutilate-bodies-of-fallen-soldiers#sthash.WlyqaNGP.dpuf
Duterte gives communist rebels ultimatum to respond to truce
President Rodrigo Duterte is bent to lift the unilateral ceasefire with the Communist Party of the Philippines (CPP) if the communist group won't heed to the government's call.
Presidential spokesperson Ernesto Abella said Duterte was "disappointed and exasperated" that the CPP has not reciprocated with a ceasefire.
READ: Duterte to communists: Do you want a truce or a fight?
POPULAR
LATEST
RECOMMENDED