Pro- Duterte Cannot Understand why president Duterte Vote in favor of a Drug protector Marvin Marcos despite prove in the senate probe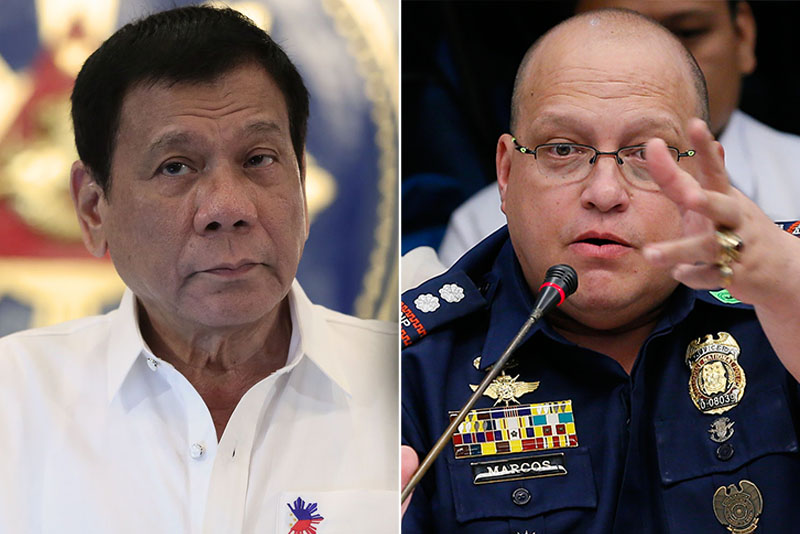 It was already ruled out that CIDG Marvin Marcos has records in the Passed receiving protection drug money according to Bato and the current investigation shows that Marcos was indeed the same person pointed out by Kerwin Espinosa. Bato even cried aloud why he has trusted these people. Senate Probe appears that Marvin Marcos and the rest of the CIDG killed Ex-Mayor Espinosa as a robout not shootout but one thing we cannot understand is right after Marvin Espinosa was suspended by Bato, immediately Malacanang intervene to release to proven killer or reinstated him so we cannot blame the Public why Duterte protected the Drug Protector? We all believe in duterte as the good person who punish the wicked Police Drug protector just like the 5 Police generals who was named and now Duterte became the Protector of the Police Drug Protector? Why?
JUST IN: We just cannot fathom why would Obama lecture on Human Rights to Philippine President Duterte but forgets he has more than 4k killings of blacks, Latinos in Chicago alone & much more in other States in the US- Watch video
Why would Obama lecture Duterte on "Human Rights" when he failed to solve the Extrajudicial Killings shooting the "Blacks" and unresolve Killings of more than 4k in Chicago alone since he sits as president? Watch Video
We just cannot fathom why would Obama lecture on Human Rights to Philippine President Duterte about Human Rights" but forgets he has more than 4k killings of blacks, Latinos in Chicago alone & much more in other States in the US.
On the other hand, Obama allegedly armed the ISIS terrorist to fight Syria killing tons of children and women old and young alike.
Extrajudicial killings remain biggest Human rights problem under Aquino - US report By: Philippine News Agency | Agence France-Presse
It is indeed a hidden story about the greatest rise of Extra-Judicial Killings during the Aquino Administration but ousider like the US and Western Observers Noticed the said Killings which was reported in the news on March 1 2014 was hide allegedly by Philippine Media.
Therefore, No One in the Philippine Media highlighted the "Extra-Judicial Killings during the years of Aquino Administraion especially from 2013, 2012, 2011 and going down which includes 2010 and down. US Human Rights told Reporters across the Globe that the killings in Aquino Administration was very alarming but the Philippine Media Allegedly did not exposed it against the Aquino administration as there were many speculation that Mediamen wee allegedly being paid by the biggest and powerful empire known as the "Yellow" or Liberal Party where DILG Secreatry Jesse Robredo was allegedly murdered because of his reports to Malacanang about the Drug Carrtel's Tagged as "
Jesse Robredo allegedly killed for probing PNP Gen. Pagdilao, Aquino Cabinet execs' drug links but Malacanang is the allege mastermind which links to Former President Aquino as the allege biggest Drug Protector
This reports coincides with the tally survey made todday by Senator Peter Cayetano that based on statitics of crime diring the Aquinno Administration, there was a higher percentage of killing in the Aquino term than in the Duterte administration pointing out that 35 higher during Aquini while only 20% today in Duterte Presidency.
US Reports against the rising of the Extra-Judicial killing and DILG Jesse Robredo's Murder for reporting the Drug trade which Malacanang Officials and PNP Generals involved was the reason that has lead to him to be allegedly killed in cold blood
At least two viral posts making the rounds on social media are claiming that the late Jesse Robredo was killed after he purportedly discovered the extent of the illegal drug trade which not only counted PNP generals among its beneficiaries but also Cabinet members belonging to the former administration.
In a Facebook post attributed to former Manila Chronicle general Jose Alejandrino, Robredo was killed after uncovering the drug links of some of the PNP top brass and at least two Cabinet members of former president Benigno Aquino III.
"Jess informed President Aquino of his investigations. The problem was it was not only the drug lords who had links to some PNP generals but as Jess dug deeper found they had links to Palace officials," the post said.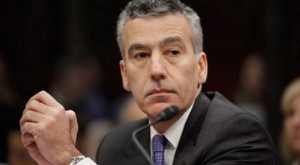 InterAksyon.com
The online news portal of TV5
MANILA - (UPDATE: 3:29 p.m.) Philippine security forces continue to commit extra-judicial killings under President Benigno Aquino III's administration although a few convictions over rights violations have sparked hope that change is underway, the US State Department said in an annual human rights report released on Friday.
While the 2013 Country Reports on Human Rights Practices tried to present a mixed picture of progress and concerns in the Philippines, it reported that some dismal conditions that allow rights violations to continue have endured.
"It's clear to me that extrajudicial killings remain foremost among the human rights challenges in the Philippines," US Ambassador Philip Goldberg said in a statement issued in Manila with the human rights report.
But he tried to strike a balance by stating that he was "encouraged by the Philippines' recent extrajudicial killings convictions."
There were only three such convictions last year, according to the report, reflecting the need for Aquino's administration to step up efforts to bring perpetrators of killings and other abuses to justice.
The State Department said in its report that extrajudicial killings and enforced disappearances undertaken by security forces as the most significant human rights problems in the Philippines.
Although Philippine officials say violations have markedly gone down compared to past periods, including the dark Martial Law era under President Ferdinand Marcos, the Philippines continued to be hounded by human rights problems.
The US Congress continues to impose a limit on military aid to the Philippines which was first announced in 2009 due to the country's failure to stop extrajudicial killings and convict many of the violators.
The US report cited conditions that allow rights violations to continue, including the country's "dysfunctional criminal justice system" that has hampered cooperation between police and investigators.
The report says that "although there has been progress in running after big time corruption suspects through high-profile investigations, the process has been slowed by lengthy procedural delays and widespread official corruption and abuse of power."
The report said other persisting human rights problems, include: allegations of prisoner/detainee torture and abuse by security forces; violence and harassment against human rights activists by local security forces; disappearances; warrantless arrests; and lengthy pre-trial detentions.
Report to help better HR safeguards – Palace
A US government report criticising the Philippines for failing to stamp out extra-judicial killings will help Manila improve human rights safeguards, a presidential spokeswoman said on Saturday.
President Benigno Aquino's spokeswoman Abigail Valte told AFP the government was taking note of the criticism from a key ally and aid donor.
"We'll have the national government agencies go through it and address particular areas of concern, focusing on what can be done to further our efforts" to improve, she added.
The criticism of the Philippines, a former US colony that relies heavily on US defence aid, is part of a series of State Department reports on the human rights situation in various countries.
It criticised "a dysfunctional (Philippine) criminal justice system notable for poor cooperation between police and investigators, few prosecutions, and lengthy procedural delays", along with "widespread official corruption and abuse of power".
Mark Cebreros, spokesman for the Philippine government's Commission on Human Rights, said much of the information in the US report actually came from the Philippine agency.
"We acknowledge there are few convictions for extra-judicial killings in this administration," Cebreros told AFP.
He said there had been improvements under Aquino, including a drop in extra-judicial killings.
However, torture cases were still at the same level, he added.
The commission, which documents and investigates allegations of abuses, also cited other problems like lengthy trials and overcrowded prisons.
"We are talking about the entire criminal justice process," Cebreros said.
Human rights organizations allege that the Philippines suffers from a "culture of impunity" where powerful men feel they can commit abuses without fear of punishment.
In the worst such incident, in 2009 a Muslim political clan murdered 58 people including members of a rival clan, lawyers and journalists to prevent a rival from running for a local post against one of its members.
Despite a global outcry, the trial of the accused has dragged on for years and many suspects still remain at large.
Overcrowded jails, media slays, human trafficking
The State Department also expressed concern on overcrowded and inadequate prison conditions; killings and harassment of journalists; internally displaced persons (IDPs); violence against women; abuse and sexual exploitation of children; and trafficking in persons.
Limited access to facilities for persons with disabilities; lack of full integration of indigenous people; absence of law and policy to protect persons from discrimination based on sexual orientation and gender identity; suspected vigilante killings; child labor; and ineffective enforcement of worker rights were also a concern.
The State Department is mandated by US Congress each year to provide a detailed report on the status of human rights in more than 100 countries. The report is intended to help the US government assess its policy and foreign assistance.
The report also noted that long-running Muslim separatist and communist insurgencies continued to result in the displacement of civilians and the killing of soldiers and police in armed clashes.
Terrorist organizations such as the Abu Sayyaf Group (ASG), Jemaah Islamiya (JI), and the New People's Army (NPA), as well as elements associated with the separatist Moro Islamic Liberation Front (MILF), including the breakaway Bangsamoro Islamic Freedom Fighters (BIFF), continued to kill security forces, local government officials, and other civilians, according to the report.The Moro National Islamic Liberation Front (MNLF) also conducted military operations against government security forces and civilians.
These organizations, the report said, continued to be linked with kidnappings for ransom, bombings that caused civilian casualties, reports of the use of child soldiers in combat or auxiliary roles, and unauthorized courts.
The Philippine government and the MILF recently concluded a new autonomy deal that is expected to be signed next month by both sides in what has been praised as a major step to ease decades of Muslim unrest that has killed more than 120,000 people and held back progress in Southern Mindanao.
LATEST


Read more: http://globalnation.inquirer.net/142554/us-summons-ph-envoy-over-dutertes-bakla-tag-on-goldberg#ixzz4IT5Xv5Fw
Follow us: @inquirerdotnet on Twitter | inquirerdotnet on Facebook
Testimony: Killing of Blacks in USA