Philippine President Duterte orders US troops out: 'I will instead ask Russia to take over against those accusing ME for Extra-Judicial Killings without Basis.
Philippine Opposition Succeeded in Destroying US-Philippines Relation. Duterte Felt Ashamed, shifted to Russia & China as an ALLY.
Philippine Newly Elect president Duterte has allegedly felt ashame over the issue during Obama's cancellation of the bilateral meeting with Philippine President in Laos then Presidential Candidate Hillary Clinton SLAMS Philippine President for being Disrespectful.
Everything happened because of a giant Broatcasting Netword ABS CBN allegedly Twisted the reports saying that Duterte called Obama as "Son of a whore" which has used the false edited Video to appear "Real" but the Philippine President Denied it. Philippine Media especially ABS-CBN has been BOYCOTT by the President of the Philippines since before he took his oath in July 2016.
Despite being BOYCOTT by the Newly Elected President, It is believe that the Philippine Oppositiion continually destroying the image of President Duterte not only in His country but in Abroad especially when they allegedly send Vice President Leni Robredo in US who has allegedly pays the homeless people in New york to explode a "Rally" quoting president is an Extra-Judicial Killer without basis.
They have reach to the point that they have not only destroyed the President's image but to no avail, they have destroyed the Philippines who is now turning support from Russia and China instead to the USA because of an allege threat the President felt especially if Clinton will win the election therefore the Philippine President allegedly seeks ALLY from Russia and China to Protect the her country from Clinton.
In case Clinton makes it in the election, speculations rises that she will use the allege HYPOCRITICAL issue on Human Rights against the Philipine President but now she won't succeed as RUSSIA and CHINA will stand for the Philippne's against any threat of Nato, US and United nations who has been accusing Duterte falsely about "Extrajudial-Killings" because they are without basis" except gossip from the Media hired allegedly by DrugLords which has been masterminded allegedly by the Philippine Opposition.
The Said Philippine Opposition which has branded allegedly as the Drug protector and has countless cases of "Graft and Corruption is believe to have been paid the allege Corrupt Philippine Media and Dirty Yellow Oppositions in order to protect their interest and save themselve from Death penalty because Philippine President is already aware whome or who among them are involved to the" Drug Syndicate"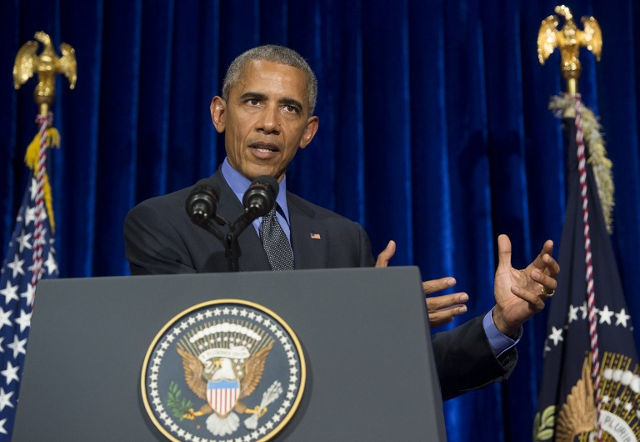 Obama's Insult to Duterte: Fight crime, terror 'the right way'
Philippine President Rodrigo Duterte insisted Monday that he snubbed US leader Barack Obama and not the other way around on the eve of their scheduled summit in Laos last week.
He also ordered US troops to leave the the southern Philippines, and blamed America for inflaming Muslim insurgencies in the region.
"For as long as we stay with America, we will never have peace in this land," Mr Duterte said in a speech to newly appointed government officials.
He showed photos of what he described as Muslim Filipinos, including children and women, who were slain by US forces in the early 1900s and dumped in a pit in Bud Daho, a mountainous region in southern Sulu province. American soldiers stood around the mass grave.
"The special forces, they have to go. They have to go in Mindanao, there are many whites there, they have to go," he said, adding that he was reorienting the country's foreign policy. "I do not want a rift with America, but they have to go."
Mr Duterte sparked a storm ahead of last week's Asean summits in Vientiane by labelling Obama a "son of a bitch", and prompting the US leader to cancel planned talks between the two allies. The pair met briefly later in Laos after Duterte expressed regret.
But the fiery Filipino leader said Monday in a new version of that event that in fact he decided to scrap the meeting in reaction to US criticism of his bloody anti-crime campaign, which has claimed almost 3,000 lives since he took office.
"I purposely did not attend the bilateral talks (with)... the president of the United States," Duterte said in a speech to police and military personnel.
"I really skipped that one."
"You cannot just (lecture) a president of a sovereign state. Even Obama. It would be wrong for him to do that. That is why I swore against him."
The former prosecutor mocked the "bleeding hearts" who criticised him for his human rights abuses, and reiterated his call for security forces to kill drug suspects and other criminals.
Duterte won presidential elections by a landslide this year after promising that tens of thousands of people would be killed in an unprecedented law-and-order crackdown. Security forces have relentlessly followed his orders since he took office on June 30.
But his actions have sparked a wave of international condemnation, including from the UN chief Ban Ki-moon and the US State Department.
In a brief encounter in Laos, Obama urged the Filipino leader to conduct his crime war "the right way" and protect human rights, but Duterte dismissed it as being none of America's business.
In an earlier speech, Duterte had said he was ordering all US special forces to leave the troubled southern Philippines where they have been advising local troops in battling Muslim extremists, saying the West was at the root of the persistent Muslim insurgency.
Mr Duterte did not mention any deadline or say how he intends to pursue his wishes. The US Embassy did not immediately issue any reaction.
Since becoming president in June, Mr Duterte has had an uneasy relationship with the US, and has been openly critical of American security policies. As a candidate, he declared he would chart a foreign policy that would not depend on America, his country's treaty ally.
In 2002, the US military deployed troops to train, advise and provide intelligence and weapons to Filipino troops battling al-Qaeda-linked Abu Sayyaf militants in the southern Philippines.
When the American forces withdrew in February last year, US officials said a smaller contingent of US military advisers would stay. Details of the current US military presence in the south were not immediately available.
The Philippines was a colony of the United States from 1898 to 1946, except for a period of Japanese occupation in World War II.
In opposing the US military presence in the southern Mindanao region, Duterte cited the killing of Muslims during a US pacification campaign 100 years ago. He said the programme in the early 1900s is at the root of the long restiveness of minority Muslims in the largely Catholic nation's south.
Leni Robredo Allegedly Announces (Video) that she is just waiting the President to die--Is it a Curse? a Hate Or a Threat?- Watch the Video yourself and we allow you to judge.
Manila, Philippines- The Video which has allegedly gone viral coming from the statement of Vice President Leni Robredo bared that She is just waiting for the President to DIE. quoting that everything Duterte is doing is unconstitutional she added.
If you saw the video she allegedly say it that she is just waiting that something will happen to President Duterte thus it creates a Mockery to the honor and probity of our Newly elected President Rodrigo Duterte.
Watch the Video yourself and we allow you to judge.